A-PDF Number online help
A-PDF Number is a free software utility program that adds/creates page number in .pdf files which are compatible with Adobe Acrobat Reader Version 5 and above.
The program is a standalone application. No Adobe Acrobat needed.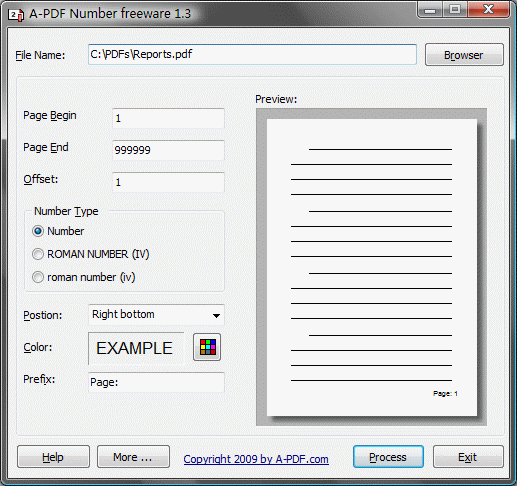 File name

What is base PDF file, which you want to add page number to.

Page Begin

The begin of page you want to add page number to. The minimality is 1.

Page End

The end of page you want to add page number to. If you will add to last page, simply input a large number. The maximality is 999999.

Offset

The start number in the first number adding.

Number Type

Select a page number type. There are three types to choose:

Number (1,2,3,4...)
ROMAN NUMBER (I,II, III, IV ...)
roman number (i, ii, iii, iv ...)

Postion

Select page number postion. There are three postion to choose:

Left bottom
Middle bottom
Three bottom

Color

Select page number color, using the buttom

Prefix

The page number prefix. Such as "page ".

Process

When you press Process button, the Windows 'save as' dialog box opens to allow you to save the new file with page number to another file name.