PDF Password Security
Protect or unprotect PDF files with Password security using our products.
* Support 40-bit, 128-bit RC4 and 128-bit AES encryption
** Support 40-bit or 128-bit RC4 encryption
*** Need A-PDF Password Security (Desktop) to set password pool
About PDF Standard Password Security
The built-in encryption method provided by PDF allows for the following functionality. A document has two passwords: an owner password and a user password. The document also specifies operations that should be restricted even when the document is decrypted: printing; copying text and graphics out of the document; modifying the document; and adding or modifying text notes and AcroForm fields. When the correct user password is supplied, the document is opened and decrypted but these operations are restricted; when the owner password is supplied, all operations are allowed. The owner password is required to change these passwords and restrictions.
A document is encrypted whenever a user or owner password or restrictions are supplied for the document. However, a user is prompted for a password on opening a document only if the document has a user password.
How Can I Know If a PDF File Has Password Security?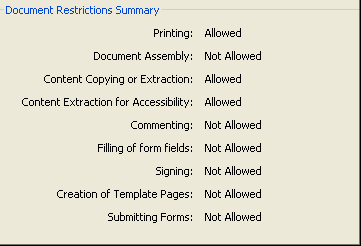 When you see the icon

at the bottom left of the Acrobat/Acrobat Reader program window, it indicates that the PDF file is secured. Place your mouse cursor over that 'locked' icon, and you will see a listing of the security options that were applied to the file.
For more information about a file's security settings, you can click "File|Document Properties" in the Acrobat/Acrobat Reader menu bar. Then select the Security tab to show more detail about the file restrictions.

Note: if you are using Acrobat Reader, some restrictions will always be in effect , even if the file has not been encrypted, because Acrobat Reader does not allow comprehensive control. The restrictions may include: Document Assembly, Commenting, Signing, etc.
LockLizard Safeguard PDF Security
PDF Security with DRM copy, print, and expiry controls. No passwords. Stops screenshots.