A-PDF Batch Print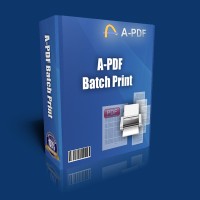 A-PDF Batch Print is a fast, affordable way to batch print documents (PDF, Word, Excel, PowerPoint, Image formats and more printable documents) to any printer device that is accessible through the Windows operating system automatically.
How it works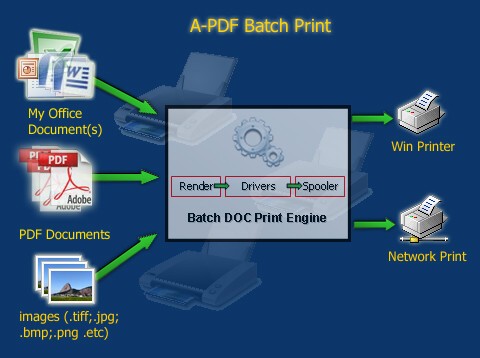 A-PDF Batch Print Feature List
Support optionally specify a range of pages to print
Support Separator printing dynamically generated or from a static file.
List order organizing options.
Drag and Drop support of files, add document by folders.
Support MS Office Documents format (eg. *.docx; *.doc; *.dot; *.rtf; *.txt; *.wri; *.pptx; *.ppt; *.pot; *.pps; *.xlsx; *.xls; *.xlt; *.xla; *.xlm; *.xlc; *.xlw. ) Support PDF file format.
Support various image formats (eg. *.tif; *.tiff; *.fax; *.g3n; *.g3f; *.xif; *.gif; *.jpg; *.jpeg; *.jpe; *.jif; *.pcx; *.bmp; *.dib; *.rle; *.png; *.dcm; *.dic; *.dicom; *.wmf; *.emf; *.tga; *.targa; *.vda; *.icb; *.vst; *.pix; *.pxm; *.wbmp; *.jp2;*.j2k;*.dcx;*.crw;*.psd;*.iev;*.lyr, ect...)
Logging and reporting and archiving logs
Use with an Adobe PDF Print driver to automatically batch convert documents to PDF;
Why A-PDF Batch Print
Save your time
You can print hundreds documents without interactive.
Support most of printable documents
Include MS Word, Text Files, PDF, Image formats, Excel Spreadsheets, PowerPoint Presentations and many more. 
Easy to use
There are only two steps:
Add documents
Select a Printer and then Print them
Save Your Money
A-PDF Batch Print costing only $27.
| | | |
| --- | --- | --- |
| | | |
| only $27. | | Free download trial version |
See also
Current version 2.9.0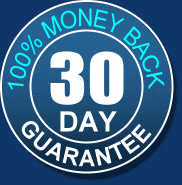 Requirement:
- Windows NT4/2000/XP/Vista/7