A-PDF Size Splitter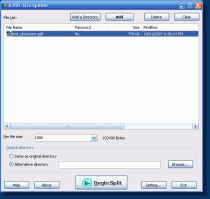 Click to enlarge
Current version 1.2.1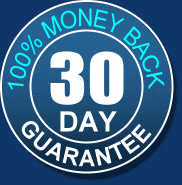 A-PDF Size Splitter is an intuitively simple, lightning-quick desktop utility program that lets you split any Acrobat pdf file or group of files into smaller-sized pdf files. It provides complete flexibility and user control in terms of the size of the split files and how they are uniquely named, and even works with password-protected pdf files.
A-PDF Size Splitter is perfect when you have a file size limit imposed by your email program or service provider's rules, or for meeting specialized legal requirements such as a maximum attachment size.
If needed, you can recombine the generated split files with other pdf files using a utility such as A-PDF Merger to form new composite pdf files.
A-PDF Size Splitter does NOT require Adobe Acrobat, and produces documents compatible with Adobe Acrobat Reader Version 5 and above.
Features and Functions
Standalone program. Does NOT require Adobe Acrobat or Reader
Splitting PDF files at user-designated file sizes
Supports batch operation
Flexibility and user control
Supports output file name pattern
Supports "owner" password protected PDF files
Supports "user" password protected PDF files (requires inputting password)
Supports keeping original file encryption
Free download, 15 days trial.
Very easy to use
See also