A-PDF Text Extractor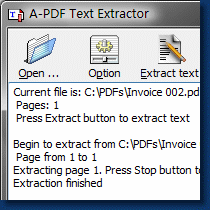 Click to enlarge
Current version: 1.4.4
Requirement: Windows 98/NT4/Me/2000/XP

A-PDF Text Extractor is a free utility designed to extract text from Adobe PDF files for use in other applications. There are three mode of output text: In PDF Order, Smart Rearrange and With Position. Learn more about the output type here.
The program is freeware, which means that you can use it either personally or commercially for free.
The program is a standalone application; no Adobe Acrobat needed. A command line version is available also to allow you to call in your program or script.
If you want to grap images from PDF files, you may check out the A-PDF Image Extractor.
If you find it useful, please consider making a donation:


To extract text from a PDF file, the PDF file must meet the following conditions:
The file is formatted to contain text and not just images.
The file does NOT contain security restrictions which disable text selecting. (You may remove the security by using the A-PDF Restriction Remover)
Note: Text formatting may be lost after exacting from the original PDF file.
Q & A
Why I get "Can not load file" error message when I extracting from a PDF file?
Make sure the file does not be used by other programs, such as Acrobat Reader.
Why Some text in PDF file can not be extracted out?
The PDF file format is complex, there are cases that text in a PDF file are actually pictures. We do not grantee A-PDF Text Extractor will work for every PDF file, especially ones that have picture text.
See also