A-PDF Watermark for Mac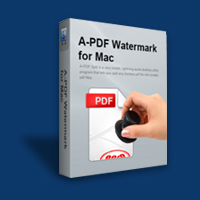 A-PDF Watermark for Mac is a great tool for Mac users to identify themselves with watermarked PDF documents. With this software, you can add or batch add watermark to PDF documents with ease. The intuitive user interface will guide you to get the job done in 3 steps: Add PDF document(s) – Select or create watermark(s) – Append watermark(s) to PDF (s).
A-PDF Watermark for Mac supports 5 different kinds of watermark such as Text and Image watermark. Besides, it enables you to create your own watermarks with custom settings. What's more, the watermark tool allows you to watermark your Acrobat PDF files in Hot Directory mode or for Printing, Mailing or FTP purpose.
only $35
Get a free license >>
Free download trial version
See examples created
by A-PDF Watermark for Mac
How A-PDF Watermark for Mac Works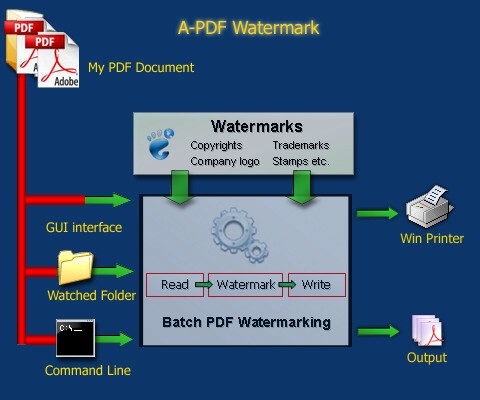 Why A-PDF Watermark for Mac
Protect and branding
A-PDF Watermark for Mac is very useful if you want to protect your PDF files. You can simply add a visible watermark of your own to make your PDF documents distinguishable. And this tool also allows you to add password security to protect your files. In addition, the watermark on your PDF files can be an effective tool for branding.
Batch watermarking support
With A-PDF Watermark for Mac, you can batch add watermarks to multiple PDF documents at the same time. It can save your time and make your work more efficiently.
5 types of watermark
Text - support macro such as Title, Page Number, Copyright and Localdate & Localtime
Image - support various image formats: TIF, GIF, JPG, PNG, PCX, BMP, ICO, etc.
PDF - support one page or multi-page PDF files
Shape - support line, rectangle and circle
Dynamic Datetime - support dynamic date/time in line with system time
Multiple watermarks support
Sometimes you might need to add an image logo on the top as well as a text watermark at the bottom, or even more. A-PDF Watermark for Mac can eliminate your concern by enabling you to add multiple watermarks to the PDF file.
Full Control of Customizing
A-PDF Watermark for Mac has provided you with multiple pre-designed watermarks for quick applying, and it also offers you full control on creating your own watermarks with custom options: macro, text effect, opacity, font settings, color, position, margins, link settings, shape type, etc.
Custom page range with watermark
In case that you just want watermark show on some of the PDF pages and none on others, this Mac utility will let you add watermark to specific page or pages.
Multiple methods to append watermark
You can add watermark to the PDF in different ways:
Simply add watermark
Add watermark and save file as a new file
Only show the watermark in printed PDF file
Hide the watermark when print out
Add watermark to PDFs and send out via email
Add watermark and print the PDF directly
Add watermark and publish file online using FTP
See also
Current version 1.0.0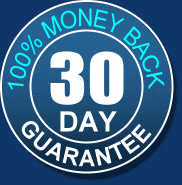 Requirement: Mac OS
X Leopard/X Snow Leopard/X Lion